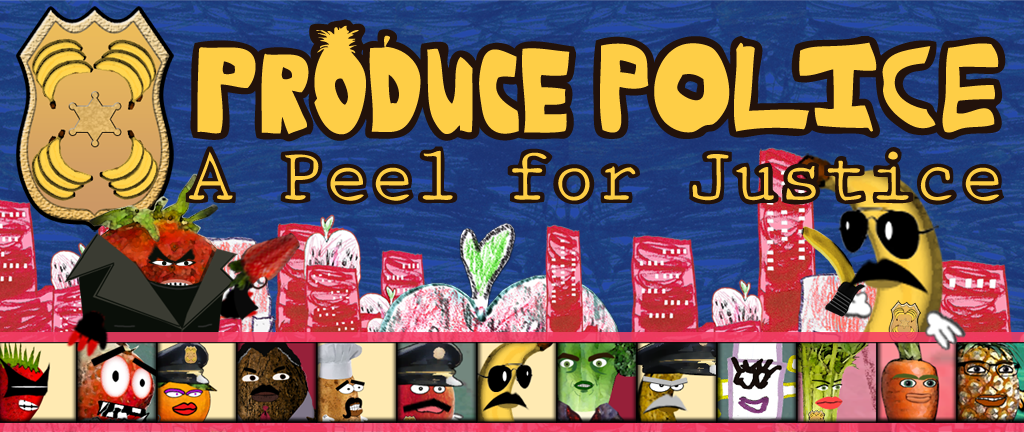 Produce Police: A Peel for Justice
A downloadable Produce Police for Windows
Help Officer Slim clean out the rot that is taking over his city.
In this action, adventure, platformer, delve deep into the city's moldy underbelly and see what grows in the dark.
---
View the development log here.
Design/Programming: Destry Diefenbach
Music: Orrie Diefenbach (@TheOrricle)
Featured art from Triston Diefenbach (age: 6) *older now
Feel free to create, post, and monetize videos of Produce Police
---
Controls
The controls are configurable on startup. Recommended to be played with a gamepad. Example controller configuration.
Default Keyboard Controls:
Move Left: A / Left Arrow
Move Right: D / Right Arrow
Enter Door: W / Up Arrow

Jump: Space
Fire: Left Mouse Button
Pause: Esc
---
What's in the Demo Version

7 locations, and 1 secret room
2 different enemies and 1 boss fight
3 item pickups - handcuffs, badge, and B9-AH sidearm
Many npc's to talk to, with over 100 lines of dialogue
4 music tracks by The Orricle
Download
Download
Produce Police Demo - Windows
50 MB
Install instructions
Run and Install ProducePoliceSetup.exe